"LORD, PLEASE GUIDE ME WITH EACH 
PERSON I MEET TODAY. FOR I KNOW, I HAVE ONLY ONE CHANCE TO MAKE A DIFFERENCE IN THEIR LIVES."
Who are we?
The Patterson Insurance Agency has been open for more than 75 years, and in that time, we've helped young families, big families, little families, retirees, business owners, and everyone in between. We could tell you that we sell insurance policies for all parts of your life, but you probably already know that. What we'd rather tell you about is how we help people, just like you, in our local communities every single day.
We look for the best priced coverage for your needs. Good coverage doesn't have to cost a small fortune.
We'll never sell you a policy that you don't need.
We aren't a one-size-fits-all insurance agency. You'll have plenty of options because we're an independent agency and work with numerous providers.
We'll talk to you like you're part of the family. You don't need more insurance jargon; you need to understand what you're buying and how it will benefit you and your family.
WHAT DOES THAT MEAN FOR YOU?
Whether you've got a beat up old pickup that barely runs anymore or a brand new, shiny sports car you gave yourself as a retirement present, we can help you find high quality auto insurance that you can afford.
Deciding between building a brand new home or renovating the old family farm? We will take you through all of your home insurance options so you can make the best decision for your budget and your family.
You opened your business with one location and a few employees, and now you're ready to grow. We can show you all the different commercial insurance policies that fit your business so you have the confidence you need to keep growing and moving forward.
That's who the Patterson Insurance Agency is. We're the insurance agency that's been around long enough to remember when Carthage, Texas was barely a blip on the map. From then until now, our sole focus has been on our clients all throughout Texas and making sure that they rest well at night knowing that they're protected.
We're your hometown, reliable, and plainspoken insurance provider. We can't wait to get to know you and your family.
Why do business with Patterson Insurance Agency?
Unlike a captive, or direct insurance company who only offers their own proprietary products, our agency is 100% independent of any one company. Many insurance consumers don't fully understand just how important that really is.
When it comes to something as important as insurance, it's imperative that you work with an agency who has an in-depth knowledge of multiple insurance products, companies, and guidelines — not just one.
At the end of the day, what separates one agent from another, is their ability to proactively service their policy holders, and their knowledge of the insurance industry, products, and different situations that may present themselves to their clients.
Independent Agent Vs. The Rest
Here is a quick comparison of the differences between an independent agency like us, and the various other types of companies that are out there: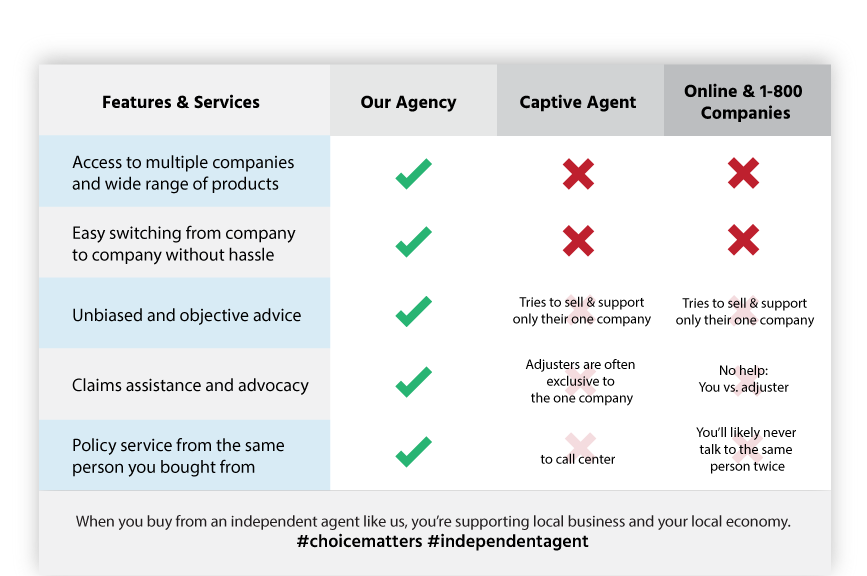 If you'd like to get started with a complimentary quote and/or policy review, we'd be happy to help you any way we can. Simply complete the fields below to get started online in a matter of seconds.
We appreciate the opportunity to help you, and look forward to servicing your insurance needs! Feel free to call us directly if you have more detailed questions.